Frog kick before retreating (right)
Backward step, beating the tiger
Right frog kick

Frog kick before retreating (right) (1 through 16)

Lesson #17 concludes with patting the horse, with your right hand resting before you, fingertips pointing up, and your right palm facing (South) in toward your left hand. Your left hand, with fingertips pointing away (West) and palm facing up, rests near the right hand as if both are holding onto a small globe or ball. Both feet aim toward the West, with your left leg resting at a comfortable distance ahead of you on your left heel only, and your right leg directly beneath you supporting most of your weight [W= 90R] as patting the horse concludes. (1)
(Frog kick before retreating begins identically to moves number 11 through 18 in the first part of the right kick in Lesson #15; though, instead of resting your right leg down following the right kick, so as to kick your left leg immed- iately thereafter, this time, you draw back, or retreat, your right leg behind you and to your right in order to set up the second frog kick of this lesson.)
Begin frog kick before retreating by lowering down your left toe [W= 80R], slowly turning your left foot to the left corner (SW) as it lowers (2-5) and you continue your forward momentum. As your left foot moves out and turns to the corner, both of your hands begin to move. Your right hand and forearm rotate toward your left (South) at the elbow, which rises slightly, with your right palm turning to face downward to the floor with fingertips pointing leftward (South). At the same time, your left hand and forearm rotate toward your right (North) at the elbow, which rises slightly, with your left palm still facing upward throughout. Hence, at this point, your arms are inches from, and parallel to, each other, and parallel to the floor as well. (4)
All the while, you continue to shift your weight forward and toward the corner (SW) as your entire torso twists to face in that direction [W= 60R].
Because you face the corner now, your right fingers point toward the SE corner while your left fingers point the opposite direction (NW).
Next, as you continue shifting your weight [W= even] forward, move your elbows toward each other, so that your hands move further apart. As your elbows pass by each other, with the right elbow slightly above the left, they begin to rotate (5), turning the arms clockwise in a circle. [W= 60L] This occurs by rotating both your right and left elbows to the right just as they pass each other. This causes the left forearm to lower, then move leftward, then upward, as the right forearm rises, then moves rightward, then downward, then leftward, and finally upward again, meeting at an apex with the left. (5-11)
As your arms rotate at the elbows in a circle, your palms rotate at the wrists: the right palm initially facing downward, then turning to face away from you (West) as it rises up and lowers down, finally again turning to face you as it rises the second time to meet your left palm; the left palm meanwhile starts out facing the ceiling, then turns to face toward you (East) before turning to face away from you (West) as it completes the circle, rising to meet your right hand. (11) [W= 80L]
As both hands complete the circle and meet, your hands cross each other, (with your right arm moving outside of -- further away from you than -- your left), and form into fists (enclosing your four fingers with the thumb either over them, or on the end of the fist, but not inside of the fingers) at about eye level, with the back of your right hand facing away from you (West) and the back of your left hand facing toward you (East). Your left hand rests just inside (grazing) your right hand, with both hands aiming upward away from each other at diagonals (i.e., crossed). (11)
Simultaneous to the movement of your arms in a circle, shifting your weight forward pulls your right foot slowly up off of the floor, heel first (6,7) [W= 90L], then toe (8). [W= 100L] As your arms finish their circling, your right foot moves forward (8-10), ahead of your left foot and rests several inches off of the floor, pointing toward the SW corner (11) with your toes pointing slightly downward. [W= 100L]
Frog kick before retreating concludes as you first cock, or turn, at your waist, your entire torso slightly toward your left (SE). Then reverse direction as you begin to rotate at your waist toward your right 90°, so that you eventually face the opposite corner (NW). Your 'floating' right leg [W= 100L] concurrently moves as one, first briefly leftward, then springing back in the opposite direction toward your right (12-14), and ultimately resting in the air pointing toward the NW corner (15). Unbend your right knee more as your right leg reaches the corner. Your leg becomes a bit more straightened out in this kick than in the ones in Lesson #15.
[see image below]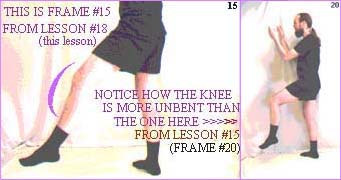 After moving slightly leftward initially, as your torso and, with it, your right leg, move rightward, your arms separate (fists uncross). Your right arm moves rightward as your right wrist rotates outward, away from you, your fist slowly unclenching until your right palm finally reaches the corner, facing away from you (NW), vertically, with fingers pointing upward. Also as you rotate rightward, your left hand simultaneously moves leftward to the opposite corner as its fist slowly unclenches until your left palm reaches that corner (SW), facing away from you, resting vertically, with fingers pointing upward. (15,16) [W= 100L]

Backward step, beating the tiger (16 through 27)

Backward step, beating the tiger begins as you draw your right leg backward (16-18), directly behind you, pulling it in a line from the NW corner toward the SE corner in a kind of reverse step through, again bending your right knee more as you do. As your right leg passes your left leg, and reaches a comfortable distance behind and to the right of it, you rest down your right toe [W= 90L] first (17), then heel (18,19) [W= 70L]. Here your two feet form at about a 90° angle with each other; your right foot points directly ahead of you (NW) and your left foot is turned to your absolute left (SW). As you draw your leg backward and rest down your right foot again, your torso nears completion of its rotation to the NW corner.
As your right toe rests down, your left hand starts to move around from its position in the SW corner, curving toward the NW corner, following your torsos continued rightward rotation. After your right heel rests down, your left hand finishes arcing around (19) to your right [W= even], where it meets up with your right hand,¹ with the palms of both hands facing each other and all fingers pointing out toward the NW corner. (20)
As your hands come together, your weight continues shifting onto your right side and you lift up your left heel only (19) (once your right foot is firmly planted) [W= 70R], and pivot on the ball only of your left foot toward your right [W= 90R], twisting your left foot from pointing toward the SW corner to pointing toward the NW corner. Both feet are then about parallel to one another.
Next, completely shift your weight onto your right leg as you lift your left toe up (20) off of the floor [W= 100R] and again (with the opposite leg this time) step backward. Draw your left leg backward, directly behind you, pulling it in a line (20-22) from the NW corner toward the SE corner in a reverse step through, again bending your left knee more as you do. Your left leg passes your right and your weight begins to shift. As your left leg reaches a comfortable distance behind and to the left of your right leg, and you rest down your left toe [W= 90R] first (21), then heel (22) [W= 70R]. Both feet again are about parallel to one another, pointing to the NW corner.
As your left leg steps backward, both of your hands descend together in an arc, sweeping in the same direction as your left leg, backward toward you. As your hands drop lower, follow them steadily with a fixed gaze.² Your palms turn from facing each other to facing downward as they reach their nadir at about your waist level (25). The motion of both of your arms and of your left leg are more or less in tandem with one another.
After your left heel touches down, continue shifting your weight onto your left side again [W= even], lift up your right toe only (23) [W= 70L] and pivot on the heel only of your right foot toward your left [W= 90L]. Turn your right foot (23-25) from pointing toward the NW corner to pointing toward the SW corner, then rest your right toe down again (25) [W= 70L]. Your entire torso rotates at your waist toward your left, turning you from facing the NW corner to facing the SW corner as you finish this pivot.
As your torso rotates leftward, both of your hands move leftward with it as one, positioned with palms down, just in front of you, still at about waist level. Continue following your hands with your gaze. Your right foot now points toward the SW corner as your left foot still points toward the NW corner; hence, your toes point nearly toward each other as if you are pigeon-toed.
After your right toe touches down, continue shifting your weight onto your right side again [W= even], lift up your left toe only (25) [W= 70R] and pivot further toward your left on your left heel only [W= 90R]. Turn your left foot 135°, (26,27) from pointing toward the NW corner to pointing directly South, then rest your left toe down again (27) [W= 70R]. As with this whole series of pivots, your entire torso rotates at your waist toward your left. This last pivot in this direction turns you from facing the SW corner to facing due South.
At the same time, your hands continue to move toward your left and begin to move away from each other again. Your right palm turns from facing downward to face toward you with fingers extended downward and to your left (25-30). It remains at waist level just a few inches in front of your groin area throughout the rest of backward step, beating the tiger and into the first part of the next posture. (As rotation of your torso leftward does conclude, forthwith, of course, your right hand does actually move, not independently though; it moves as one with you, as you rotate, remaining directly before your groin area as you turn.)
Your left hand meanwhile moves briefly further to your left before sweeping gently in an upward arc (25-27), with your left palm turning from facing downward to facing away from you (South) as it does, ending up positioned palm away, thumb down, few inches in front of your forehead as you conclude this pivot of your left foot.
After your left toe touches down, continue shifting your weight onto your left side [W= even], and finally shift forward (South) a bit [W= 70L], positioning your left knee above, but not further out than, your left toe (27). As you conclude backward step, beating the tiger, your two feet form at about a 45° angle with each other with your left foot, pointing directly to the South, resting comfortably ahead of your right foot, pointing to the SW corner.

Right frog kick (28 through 34)

Right frog kick begins as you lift your left toe only (28) [W= 80L] and pivot on your left heel only [W= 90L]³ toward your right, turning your left foot (28-30) from pointing toward the South to pointing toward the SW corner. As you pivot, your entire torso rotates at your waist toward your right, turning your body from facing South to facing SW. Both of your arms simply follow the chi movement here, remaining just as they were at the conclusion of backward step, beating the tiger throughout this pivot. As your body completes turning 45°and faces SW, rest down your left toe (30). Both feet now briefly point to the SW corner.
After your left toe touches down, lift up your right heel only (30) and pivot on the ball (31) of your right foot [W= 90L] toward the right, turning your right foot from pointing toward the SW corner to pointing toward the West.
As you pivot, your torso finishes rotating at your waist toward your right, turning your body from facing the SW corner to facing West. Both of your arms continue to simply follow the chi movement here, remaining in the same positions in front of you as your body turns rightward. Your right foot now points toward the West and rests poised on the ball of the foot only as your left foot still points toward the SW corner.
Completing right frog kick, fully shift your weight onto your left side [W= 100L] as you steadily lift up your right knee, pulling your left foot up off of the floor entirely. Continue to raise your right leg up until your thigh is about parallel with the floor and your right knee is at about waist level height with your right foot hanging beneath it above the floor (32).
As you raise your right leg upward, your arms shift into new positions. Your right hand lifts upward as your left hand drifts downward. They meet at about your chest level directly in front of you with your elbows to the sides and your arms parallel with the floor (32). Both hands have turned slightly as they shift, and closed into fists, so that as they meet before you, the backs of your hands (now fists) face upward with the knuckles of one fist just touching or grazing the knuckles of the other fist.
Here's the kick! Sink your chi by bending your left knee down a bit more, then spring back up, unbending your left knee again as you move your right foot forward in a kicking motion by rotating your lower right leg up from the knee (33). As your foot rises to kick, your arms move away from you and away from each other at about shoulder level, with your fists unclenching and both palms facing downward as they separate (33). As each arm begins to arc laterally back around toward its respective side of you, with your left arm moving South and your right arm moving North, your right foot slowly lowers down again to the floor.
Right frog kick concludes as your right foot touches the floor with the heel only (34) [W= 90L], pointing West, as your hands, with palms still facing downward, prepare to reverse direction at the start of the next move, and next lesson (in which they eventually move away from you toward the West on the same shoulder level lateral arc). Your left arm is nearly pointing South and your right arm is nearly pointing North. Your left foot still points toward the SW corner and your right foot points West with your right toe up. (34)

PLEASE NOTE: OOPS! THE LAST FEW FRAMES SHOWING THE SECOND KICK IN THE SECOND IMAGE BELOW WERE MISTAKENLY LEFT OUT. ONCE I GET TIME TO REMEDY THIS (someday), YOU WILL KNOW BY THE ABSENCE OF THIS NOTE AND THE PRESENCE OF THOSE FRAMES.

do not over-do do not under-do

~ ~ ~ ~ ~

(Remember to keep your knees and elbows at least slightly bent and your pelvis tucked in throughout the set.)

(If at all possible, it is suggested that someone read the text to you - or record it on a tape and play it back - while you slowly practice the form...and slowly is the best way to practice.)




notes:

¹ Actually, your right hand reaches just a little further away from you than your left hand at this point due to the angle your torso is positioned at here relative to your arms.
_go back_

² Your eyes follow the motion of both of your hands as they move in tandem, until the end of backward step, beating the tiger. At that point, just before right frog kick begins, your gaze follows the movement of your left hand only as it rises upward. _go back_

³ Note that here as you pivot the weighting is opposite to the previous pivots. Before, the weight was sustained on the side opposite to the pivot foot, freeing up that foot to pivot nearly weightlessly. Here, however, the weight is sustained on the side of the pivot foot, thus, the experience is quite different altogether. _go back_

The links back to the above footnote numbers will only return you to
the very first use of that number in the above text,
not to the subsequent references on this page to the same footnote number.
Use the "Back" button on your browser when in doubt.